Karta Otillgänglig
Datum/Tid
Datum: 2020-03-11
18:00 – 20:30
SWEDISH WOMEN IN LEADERSHIP EVENT POSTPONED
Please note that the Swedish Women in Leadership event scheduled for March 11, 2020, has been postponed due to the recommendations of our event venue, Cambridge Innovation Center, to delay larger, in-person gatherings as a precaution in light of the COVID-19 situation.
We apologize for the inconvenience. We are planning to host this event at a later date this spring. SACC-NE and SWEA Boston will post updates on their respective websites and social media when a new date for the event has been scheduled.
Everyone who bought a ticket will be refunded through Eventbrite. Please note that it may take a few days until the refund appears on your bank account.  Thank you for your understanding, and stay tuned for updates.
Join us for an evening of conversation and discussion about Swedish Women in Leadership.
About this Event
In celebration of women's history month and the international women's day, we invite you to an inspirational event with conversation and discussion about Swedish women in leadership. Hear from a distinguished panel of four Swedish women from a variety of industries and backgrounds as they share their professional journeys as well as their perspectives on topics such as:
· Successes, challenges, and growth as a leader
· A Swedish perspective on American business culture
· Being a foreign woman in the U.S. and its potential challenges
· Outlook for women in the U.S. and abroad
· Advice for aspiring leaders
Get inspired and network
This event is also an excellent occasion to get inspired and to take the opportunity to network. Come and hear our panel share their stories and gather insight that can help you in your career. What do they have in common and how do their stories differ? What have they learned along the way? We hope that the panelists and their professional journeys can inspire and empower more women and men.
The Panel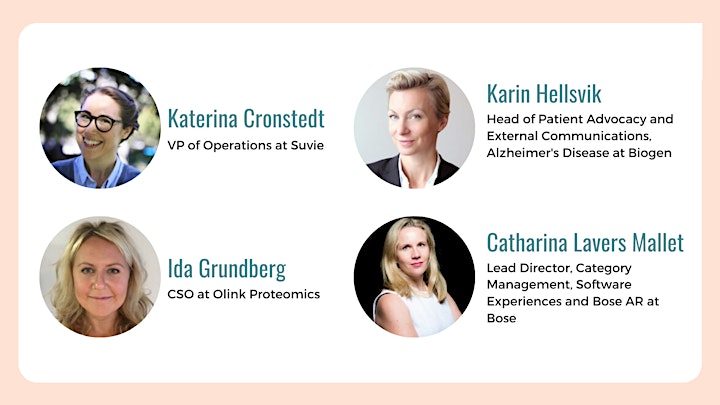 Katerina Cronstedt – VP of Operations at Suvie
Ida Grundberg – CSO at Olink Proteomics
Karin Hellsvik – Head of Patient Advocacy and External Communications, Alzheimer's Disease at Biogen
Catharina Lavers Mallet – Lead Director, Category Management, Software Experiences and Bose AR at Bose
Moderator

Grace E. Zimmerman – Professor of the Practice of Marketing in the Brandeis International Business School
Event details
Date: Wednesday, March 11th
Time: 6.00–8.30 p.m.
Location: CIC, 245 Main Street, Cambridge, MA 02142
Price: $25-$35
Agenda
> 6.00 PM: Arrival and Mingle
> 6.45 PM: Program starts – introductions, panel discussion, and Q&A's
> 8.00 – 8.30 PM: Mingle
Get your ticket to this exciting event today!
Hosts
This inspirational event is presented by SACC-NE (the Swedish-American Chamber of Commerce New England) and SWEA Professional Boston (Swedish Women's Educational Association).
Tickets can be bought HERE